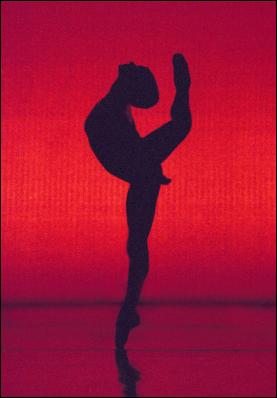 Nishant and I had a very nice weekend, yesterday was our one year anniversary with Sofra and movie and today was Momix in Opus Cactus. While I don't want to talk about Saturday night (that would be very personal of me), I do want to mention that Momix was incredible. They used lights like I've never seen. The show would have been nothing had it not been for their creative uses of light. Almost every scene was lit differently than the next. The silhouettes in one scene were amazing. You could see the dancers form and movement much more vividly than you could with just regular lighting. Also the dancers turned themselves into different types of animals throughout the performance. This was equally impressive because sometimes I couldn't figure out how they were staying the way they were.
My favorite being the Gila monster. After the sidewinders (part of the dance routine), one sidewinder was left on stage she was just twirling about until the lights flashed on (another good affect of light) and there was the Gila monster. It was amazing how these four men managed to stay intact to become this monster.
After the Gila monster was intermission and then the dancing flowers came out with their fans (this might sound silly to you but it was very beautiful).
Let me back up, I work at Convocations (in case you didn't know) and they have assigned me different computer graphic work for their shows. One of the first I did was for Momix and I used a picture from the dancing flowers to add to the promotional item I was making. I actually made three different ones and had my boss pick which one, and she liked the dancing flowers one, Nishant did too, but I kind of liked my Gila monster one still... Oh well
Anyway when the girls came out on stage, Nishant leaned over and in a very endearing voice, "Hunny, that's from your ad!" And I have to say, my piece for the show didn't give the show the justice it deserved. I probably would have done it much differently if I had seen the show first. I guess this is why they give me free tickets for almost all the shows, because the next ad I make will just be that much better.